{{#if mode}}
Shop {{{name}}}
Shop {{{name}}}
{{#if shopping_tag_id}}
{{/if}}
{{#if mode_can}}
{{else}} {{#if name}}
Shop {{{name}}}
{{#if no_nearest}} {{#if show_product_sort_button}} {{/if}} {{else}} {{/if}}
{{/if}} {{/unless}}
{{#if featured}}
{{#each featured}}
{{/each}} {{/if}}
{{#each products}}
{{/each}} {{#if promotions}} {{#each promotions}}
{{#if button_type}}
{{button_type}}
{{/if}}
{{promo_name}}
{{#if description}}
{{/if}}
{{#if total_promos}}
{{/if}}
{{/each}} {{/if}} {{#if businesses}} {{/if}}
In support of local businesses please Follow shopping zones in your community
{{coupon_name}}
{{#if description}}
{{description}}
{{/if}}
{{#if total_coupons }}
{{/if}}
{{/each}}
{{#each deals}}
{{#if pagination.show_previous}}
Friday Deals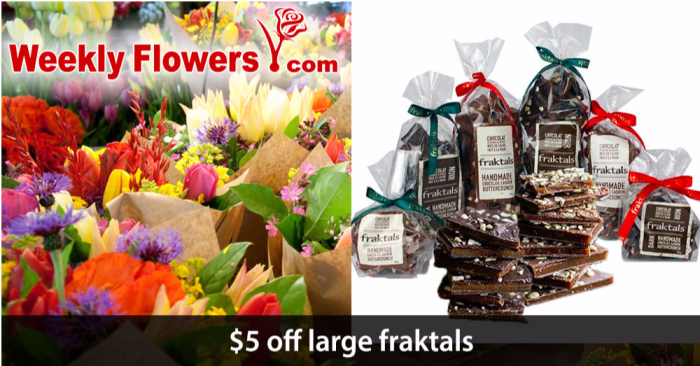 Order Now
TGIF Fraktal Fridays!
What a great way to start the weekend! Save $5 on a large package of Fraktals. Fraktals are new to Weekly Flowers, try some today you'll only hear the best feedback. Choose from 70% Dark or milk. Once you try a bite of Fraktals you'll know why they are so popular. Fraktals are a hand made Belgian chocolate cashew buttercrunch. Stop in today! #FridayDeals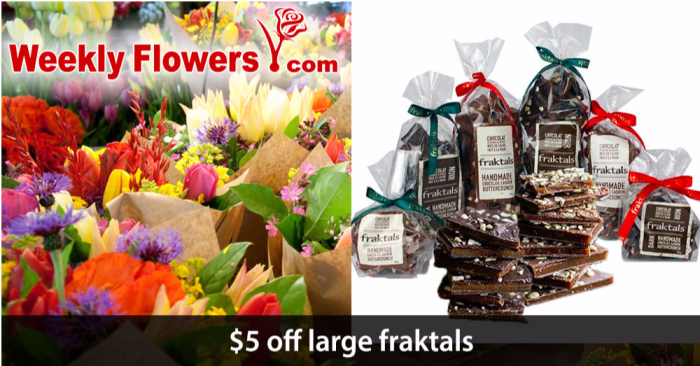 Order Now
TGIF Fraktal Fridays!
What a great way to start the weekend! Save $5 on a large package of Fraktals. Fraktals are new to Weekly Flowers, try some today you'll only hear the best feedback. Choose from 70% Dark or milk. Once you try a bite of Fraktals you'll know why they are so popular. Fraktals are a hand made Belgian chocolate cashew buttercrunch. Stop in today! #FridayDeals
My Community
{{#each feed_posts}}
{{/each}}
{{#each order_categories}}
{{#each orders}}
# {{hashtag_name}}
{{#if promo_image}}
{{/if}}
{{promo_name}} {{#if description}}{{/if}}
{{#if total_promos }}
{{/if}}
{{/each}}
{{#if feed_exists}} {{#if feed}}
{{else}}
{{/if}} {{else}}
{{/if}} {{#each promotions}}
{{#if button_type}}
{{button_type}}
{{/if}}
{{promo_name}}
{{#if description}}
{{/if}}
{{#if total_promos}}
{{/if}}
{{/each}}
{{#if pagination.show_previous}}
{{#if feed_exists}} {{/if}}
{{#each events}}
{{event_category}}
{{#if event_image}}
{{else}} {{#if garage_sales}}
{{/if}} {{#if open_house}}
{{/if}} {{/if}}
{{event_name}}
{{#if different_dates}}
{{start_at}} - {{end_at}}
{{else}}
{{start_at}}
{{/if}}
{{{description}}}
{{/each}}
{{#if multiple}} {{/if}}
{{#each jobs}}
{{job_category}}
{{#if share_count}} {{else}} {{/if}}
{{#if job_image}}
{{/if}}
{{job_name}}
{{{description}}}
{{#if website}}
Learn More
{{/if}} {{#if salary}}
Salary: {{salary}}
{{/if}} {{#if job_type}}
Job Type: {{job_type}}
{{/if}}
{{/each}}
{{#if multiple}} {{/if}}
| id | business_id | user_id | first_name | last_name | phone | gender | job_title | comments | lead_type | date |
| --- | --- | --- | --- | --- | --- | --- | --- | --- | --- | --- |
{{#each promotions}}
{{#if promo_image}}
{{/if}}
{{promo_name}}
{{description}}
{{/each}}
{{#if mode}}
Shop {{{name}}} {{{mode}}}
{{/if}} {{#if no_nearest}} {{else}} {{/if}}
{{#each products}}
{{/each}} {{#if promotions}} {{#each promotions}}
{{#if button_type}}
{{button_type}}
{{/if}}
{{promo_name}}
{{#if description}}
{{/if}}
{{#if total_promos}}
{{/if}}
{{/each}} {{/if}}
Create a new topic
---
---
---
{{#if guest}}
Trending Topics
Subject
Tags
Contributors
Views

{{topic_title}}

{{#each topic_tags}}

{{tag}}

{{/each}}

{{topic_views}}
{{else}}
{{#each students}}
@{{username}}
{{school}}, {{graduation}}
{{program}}
{{aboutMe}}
{{/each}}
{{#if user.guest}} {{#each sponsors}}
{{/each}} {{else}} {{#each sponsors}}
{{/each}} {{/if}}